20 Clean Eating Recipes For Your Tomato Harvest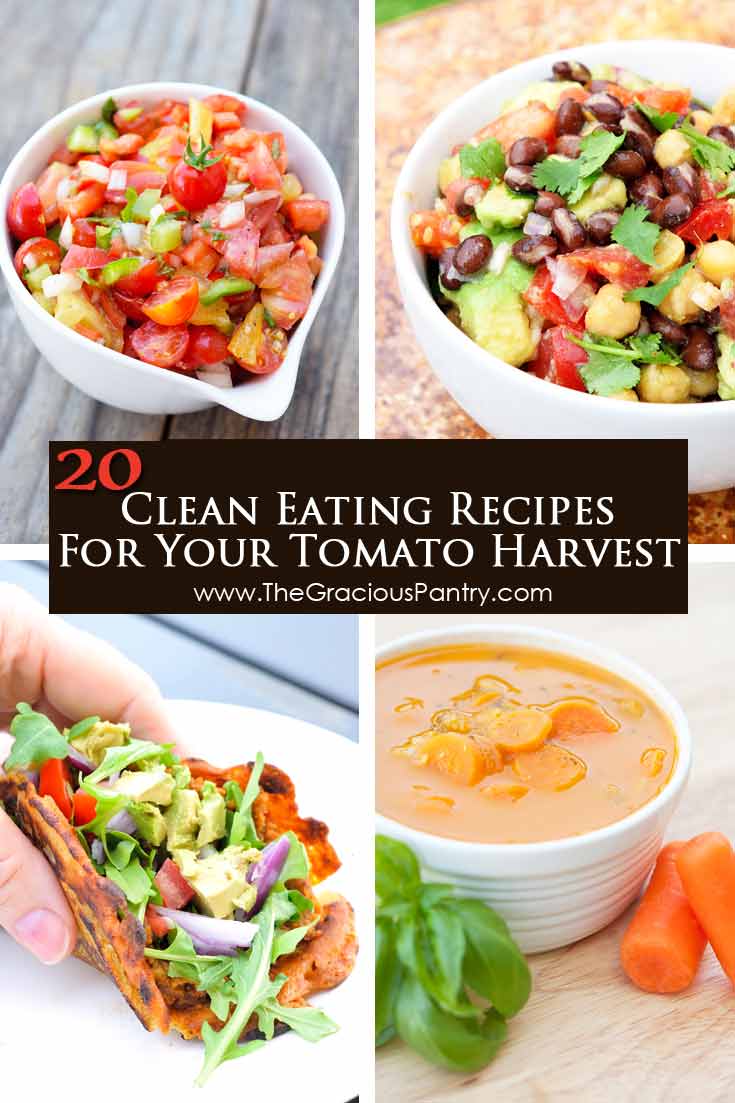 Today I've got 20 clean eating recipes for your tomato harvest!
It's definitely that time of year. The tomatoes are becoming prolific and many of you are starting to try and figure out new ways to use them up before they go bad. So I thought a list of tomato recipes would be just what the doctor ordered.
REASONS TO EAT MORE TOMATOES:
There are so many reasons to include tomatoes in both your garden and your eating plan! Tomatoes are a:
Major source of  lycopene, an antioxidant linked to reducing the risk of heart disease and even cancer.
Wonderful source of vitamin C, potassium, folate and vitamin K.
Good source of vitamin A, which helps your vision.
Good source of fiber.
And lets face it, they are delicious too. Some of my favorite foods just would not be the same without tomatoes! So without  any more delay, here are
20 CLEAN EATING RECIPES FOR YOUR TOMATO HARVEST:
Cilantro Salsa – The Gracious Pantry
Garden Tomato Salad – The Gracious Pantry
Chickpea Black Bean Salad – The Gracious Pantry
Southwestern Stuffed Sweet Potatoes – The Gracious Pantry
Sliced Basil Tomatoes – The Gracious Pantry
Tomato Mushroom Pizza With A Cauliflower Crust – The Gracious Pantry
Cherry Tomato Soup – The Gracious Pantry
Garden Tomato Salad – The Gracious Pantry
Roasted Balsamic Chicken And Tomatoes – The Gracious Pantry
Corn Salad – The Gracious Pantry
Egg Salad Sandwiches with Sliced Tomatoes – The Gracious Pantry
Instant Pot Marinara Sauce – The Gracious Pantry
Spinach, Tomato, and Egg Scramble – The Gracious Pantry
Chickpea Tacos – The Gracious Pantry
Baked Parmesan Tomatoes – Eating Well 101
Parmesan Tomato Zucchini Bake – The Nutritionist Reviews
Garlic Parmesan Zucchini Noodles Pasta – Inspired Taste
Quick Chickpea Salad – Happy Go Lucky
Spinach and Tomato Frittata – Averie Cooks
Grilled Tomato and Brie Sandwiches – Clean Eating Online
SaveSave