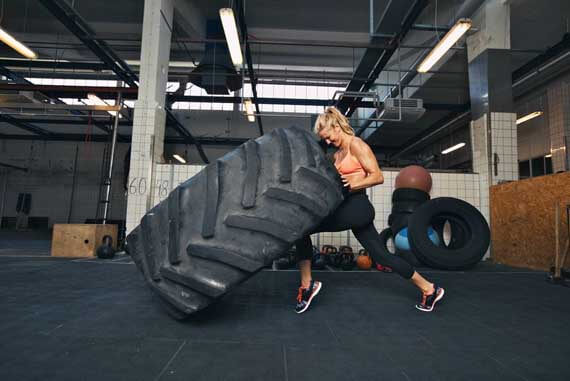 So, you've made it your New Year's resolution to start working out…again. You've always wanted to adopt an active lifestyle and get into great shape, but it seems like every time you try to start a fitness routine, you quickly lose motivation. If this sounds like you, you are definitely not alone. Luckily, this year doesn't have to end in defeat; here are ten strategies you can implement that will help you to stick to your resolution, and become that super fit person you may have always dreamed of becoming:
1. Try something new.
It's extremely difficult to remain motivated by a workout if you're doing the exact same routine multiple times a week. Not only will your mind get tired of it, but your body will as well. The longer you do the same type of exercise, the more your body adapts, causing you to burn fewer calories. Keep your body guessing by incorporating new activities every once in a while. Look at your gym's class schedule, or peek through community websites to find new and interesting fitness classes.
2. Take it outside.
When the weather permits, exercising outdoors can do wonders for your body as well as your soul. Look up local hiking trails, drag that old bicycle out of the garage, or simply take a walk through your neighborhood. You'll be glad you got some fresh air!
3. Get a workout buddy.
Make a pact with a friend to exercise together at least once per week. Choose an activity where you'll be able to both chat and work up a sweat, such as power walking or hiking. This is help your relationship and your level of fitness.
4. Keep your music updated.
There's nothing like a great, upbeat playlist to keep you motivated. Expand your own music collection to include music that pumps you up, or download workout stations from Pandora or Spotify; both services offer fast-paced, feel-good music.
5. Buy awesome workout clothes. Oddly enough, when you feel and look cute, you'll be much more motivated to go to the gym. Browse your local sporting goods outlet, or online stores such as Lululemon or Victoria's Secret. Both companies make high quality and stylish active wear that you'll be dying to show off.
6. Enter a race.
Do some online research to find local fitness events to take part in. These days, you aren't limited to just marathons or triathlons; there are loads of unique races and active events to participate in. Get covered in bright paint at the Color Run, or tackle challenging obstacles during the Warrior Dash. Find something that catches your interest!
7. Change your mindset.
If you dread your workouts and view them as some kind of self-inflicted torture, it is very unlikely that you'll achieve your goals. Instead, look at your workouts as gifts to your health; you were given an amazing body, so you should nurture it and take care of it. Once you start viewing your fitness routine as a positive, fulfilling habit, it will become much easier to maintain.
8. Schedule workouts in your calendar. If you set aside time specifically for your workouts, you'll be more likely to stick to it. Scheduling workouts will also prevent you from putting them off or neglecting to do them all together.
9. Make short term and long term goals.
Having goals to work towards will motivate you to keep pushing forward. The best way to do this is to make short term goals that will enable you to get closer and closer to your long term goal. For instance, if you dream about one day running a half marathon, then your first goal should be to run two or so miles.
10. Celebrate small victories.
Even little achievements deserve recognition. Whenever you reach a goal you've set out for yourself, treat yourself in some way that is unrelated to food. Get a manicure, buy a new workout top, or get tickets to that movie you've been dying to see. Every step forward counts, so don't forget to celebrate even the ones that seem minuscule. After all, progress is progress.