Slow Cooker Meal Plan – 1 Week Of Easy, Healthy, Slow Cooker Dinners With Shopping List!
This slow cooker meal plan will give you dinner all week long with one day off for enjoying leftovers or eating out.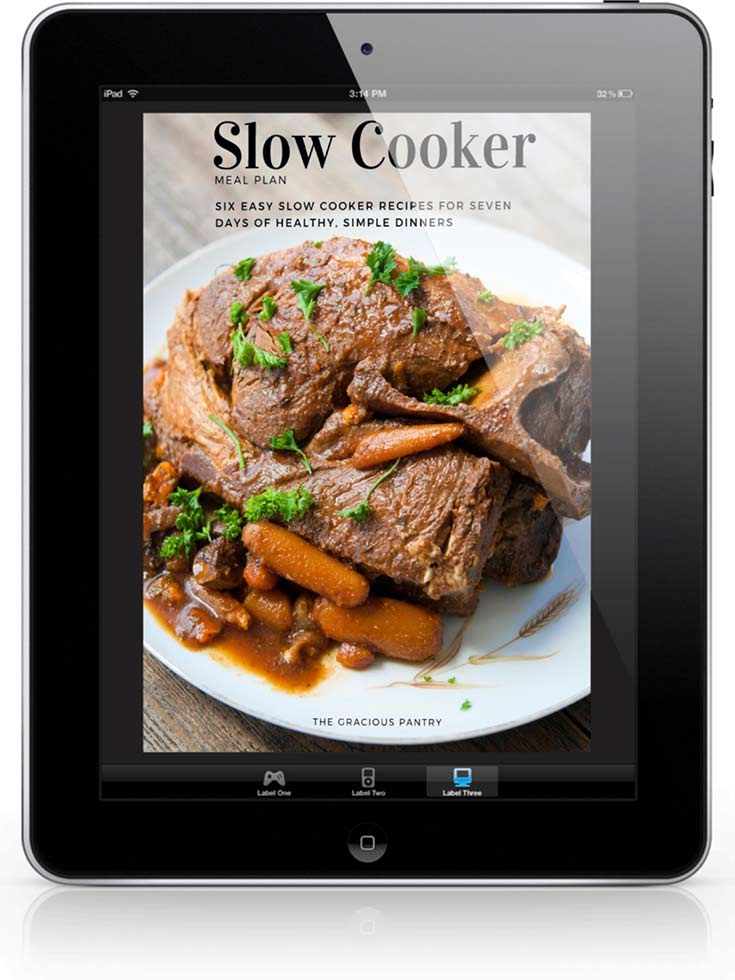 Delivered in PDF format via email. All sales final. If you don't see it within 5-10 minutes, check your spam folder. Download link is active for three days after purchase.
SLOW COOKER MEAL PLAN
I know how it is when things get busy. Getting the kids to school, sports practice and dance classes, keeping your household running, constantly packing lunches and, oh ya… you have to do that funny little thing called "work". Completely nuts how work gets in the way of things, isn't it?
But our to-do list doesn't stop, and that can sometimes make cooking a full and healthy meal a little tougher. We are short on time, patience, and gosh darn it, we have a schedule to stay on top of!!
That's where your slow cooker will come in handy. I've put together a 1 week meal plan that you can prep ahead of time (if you want to, you don't have to!) for the freezer.
And of course, the best part is that you can work and do everything your busy day needs you to do while dinner cooks itself. That slow cooker can be a real help when life gets busy!!
I do plan on offering several of these, but this first one is a good, solid start. The majority of the meals can cook all day while you work, and the weekend meals cook for a few hours while you go to the game or run your errands.
You can certainly double up on these recipes if your slow cooker will fit it all. In fact, doubling or tripling the recipe is a great way to make extra meals to leave in the freezer for cooking another day AND have leftovers to dole out for lunches the next day.
I know some of you don't like leftovers, but I certainly live by them! I don't think I could keep up with my life if I didn't have some food sitting in the fridge from the night before. It's a real timesaver, and I don't constantly have to wonder what to pack for lunch!
Things to remember:
Check the kitchen and pantry for items you already have. This will save you a lot of money when grocery shopping!
The recipes are for 1 batch only. So if you want to double the recipe, purchase double the ingredients on the list.
These can all be frozen as raw ingredients for up to 4 months (remember to date your containers or bags!!).
Leftovers are best portioned out into small, easy-to-grab containers and frozen for up to 6 months.
Remember to label your bags or containers with the recipe title!!
You can get away with a 4 quart slow cooker for these, but a 5 or 6 quart would be better. Nothing small will work for these.